Why Choose Howell?
OUR BUSINESS SUCCESS IS GROUNDED IN THREE FUNDAMENTAL PRINCIPLES:
QUALITY
Our Commitment to Continuous Improvement
Howell is committed to continuous improvement, as evidenced by our ongoing registration to the ISO 9001 standard since 2003.
Howell's Quality Management System is currently ISO 9001:2015 and CSA N299.3 certified
Our most recent ISO Certificate can be viewed here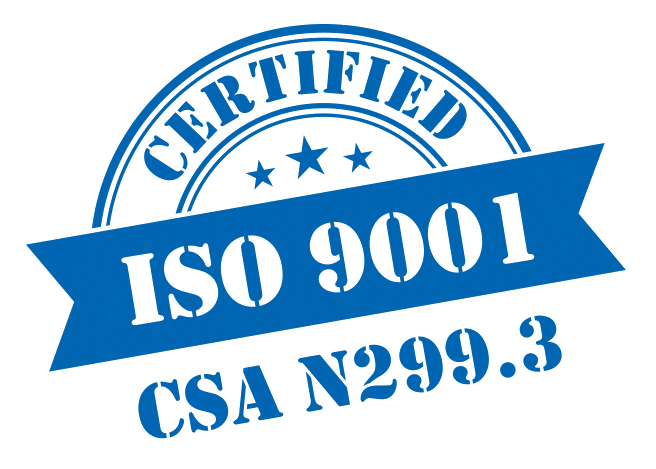 SERVICE
Leader of the Pack in Customer Service
Howell has a mature Nuclear program that has proudly supported the original Canadian Candu design from AECL through to the current nuclear referbishment and life extension projects.
SOLUTIONS
Howell Helps!
Whatever the challenge, Howell's technical product specialists will help in providing and sourcing the products and solutions for your plant's needs

Proudly Canadian.
Ontario Owned and Operated.
Pipe & Tubing
Howell provides a wide range of pipe in sizes up to 96″, customised to meet your needs
Single & Double random lengths
C/W, ERW, Seamless & Spiral
API 5LB-X42 thru X72
A53, A106, A500, A252, A139
Valves & Automation
Howell carries a wide variety of different valves that are used in the Nuclear industry.
Ball Valves
Butterfly Valves
Gate, Globe & Check Valves
Forged Steel Valves
Automated Valves
Howell specializes in valve automation and assembly with an in-house valve actuation shop. With this shop, Howell is able to add electric or pneumatic actuators to valves, allowing them to be opened and closed automatically.
Engineered Pipe Supports
Authorized Canadian distributor for Anvil EPS Engineered Pipe Support Division
Anvil is the industry leader in the manufacture of engineered pipe support systems specifically manufactured for the Nuclear industry.
Howell is authorized to supply both commercial grade and Nuclear Class 1, 2, 3 pipe supports.
Instrumentation
An Authorized Stocking Distributor of Winters Gauges
Howell is please be an authorized stocking distributor of the pressure and temperature instrumentation products manufactured by Winters Instruments. For over 50 years, Winters Instruments has provided industrial instrumentation solutions.
Pressure Gauges
Pressure Transmitters
Needle Valves & Manifolds
Pressure Switches
Diaphragm Seals
Thermometers
RTD & Termocouples