Double Random Length Pipe
Spend Less Time Welding & More Time Skiing!
Howell can provide pipe in 40ft Double Random Lengths. So you can run pipe from the bottom of the hill to the top with half the amount of welding!
Reduce your welding costs… Reduce your welding time… Increase your ski time!
Pipe & Tube
Howell stocks a wide range of pipe and tube in Carbon Steel, Stainless Steel and Alloy Grades
Pipe: C/W, DSAW, ERW, SMLS, SPIRAL and S10 to XX Heavy Wall Thicknesses
Pipe Nipples
Pipe Nipples are available in various lengths & sizes up to 8″ in diameter.
Safety Vented Ball Valves & Y-Strainers
Protect Your Investment
Safety Vented Ball Valves prevent sudden releases of compressed air upstream of the valve. This important safety feature can help prevent injury to machine operaters or damage to machinery.
Howell's range of Y-Strainers are an inexpensive way to protect your expensive machinery. Dirt and debris in your pipeline is filtered away by the strainer before it can get into your pumps. Helping to reduce unexpected downtime and maintenance costs!
Grooved Couplings & Fittings
Easily Swap Out Sections When A Pipe Breaks!
Pipes can break, especially in freezing temperatures. That's why Howell stocks the complete range of Shurjoint Grooved Couplings and Fittings.
With grooved couplings, if you suffer a burst pipe, you are able to simply remove the section of pipe and replace it with new pipe.
Grooved couplings also have more 'give', allowing more flex in your pipeline than welded fittings without breaking
Why Choose Howell?
OUR BUSINESS SUCCESS IS GROUNDED IN THREE FUNDAMENTAL PRINCIPLES:
QUALITY
Beyond quality products!
Howell is more than an industrial distributor and manufacturer of quality products that
meet the most rigorous requirements. The company and their staff focus on providing the
highest standards of service, processes and solutions.
Howell's Quality Management System is currently ISO 9001:2015 and CSA N299.3 certified
Our most recent ISO Certificate can be viewed here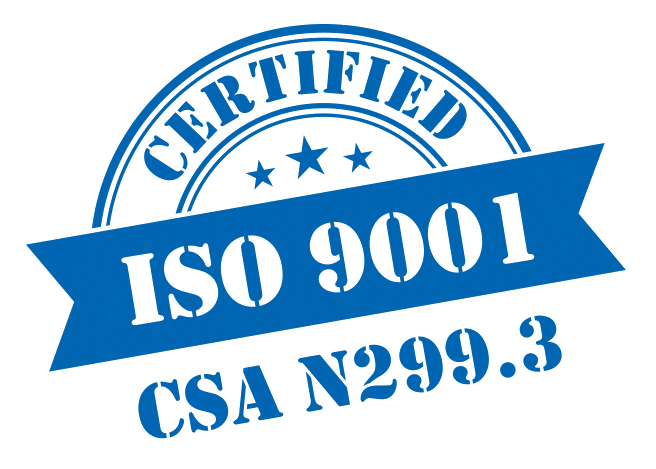 SERVICE
Customer relationships based on trust and mutual benefit.
Everyone at Howell, from the sales and office staff to the drivers are committed to building strong customer relationships and delivering the highest level of service.
SOLUTIONS
Superior and innovative solutions.
Our experienced product specialists work to provide unique, efficient and sustaining solutions in a timely fashion.

Proudly Canadian.
Ontario Owned and Operated.
See You On The Slopes!